With store-bought pesto, cherry tomatoes, leafy basil, and thick sliced fresh mozzarella, you can make this chicken caprese, skillet dinner in under 30 minutes.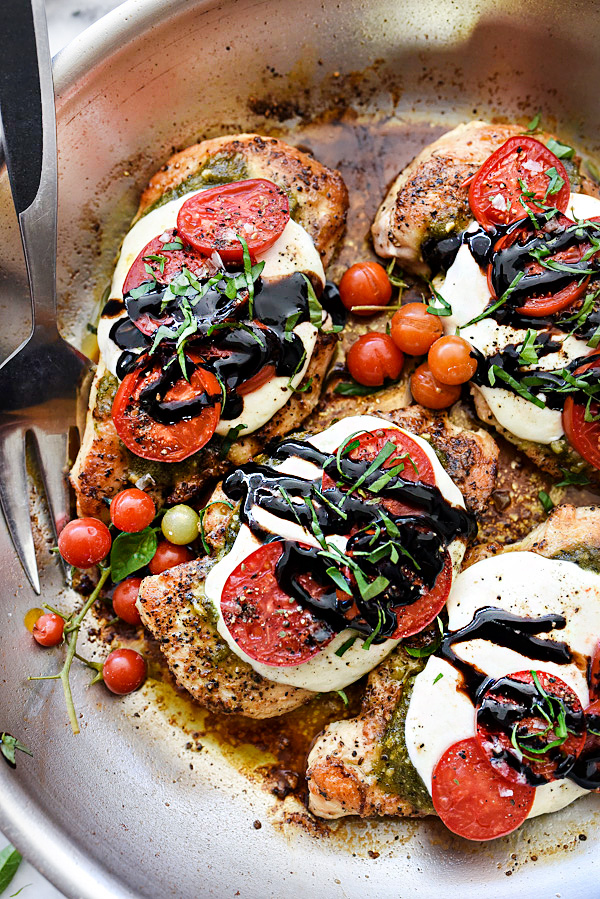 During the week, there are many things we have at our house, but extra time in the day is not always one of them. Taking a little time at the beginning of the week to plan ahead with the grocery shopping always helps when the dreaded question of "what's for dinner?" arises. That's when one-pan recipes like this 30-minute chicken dinner wonder actually make cooking at home, dare I say, enjoyable.
This chicken caprese recipe combines my favorite caprese salad ingredients with boneless chicken breasts for a quick-to-make dinner perfect for weeknights. Thin-cut boneless chicken breasts are seared on the stove then topped with pesto, sliced sweet tomato, and fresh mozzarella cheese then go into the oven to finish cooking and melt into a creamy wonder. Finished with fresh basil and a drizzle of balsamic glaze, dinner simply doesn't get much easier than this.
What Is Chicken Caprese
This chicken caprese recipe is another one in my partnership with DeLallo Foods,and features a few of the products I keep stocked in my pantry for easy dinner recipes I can whip up in a flash. Because their products are always top notch in quality and fresh flavor, I'm a big fan of everything from their pasta to olive oil, and have been for years.
Here's what's in this chicken caprese:
Boneless, skinless chicken breasts
Extra virgin olive oil
Butter
Sweet campari tomatoes
Fresh mozzarella cheese
Fresh basil
Kosher salt and freshly ground black pepper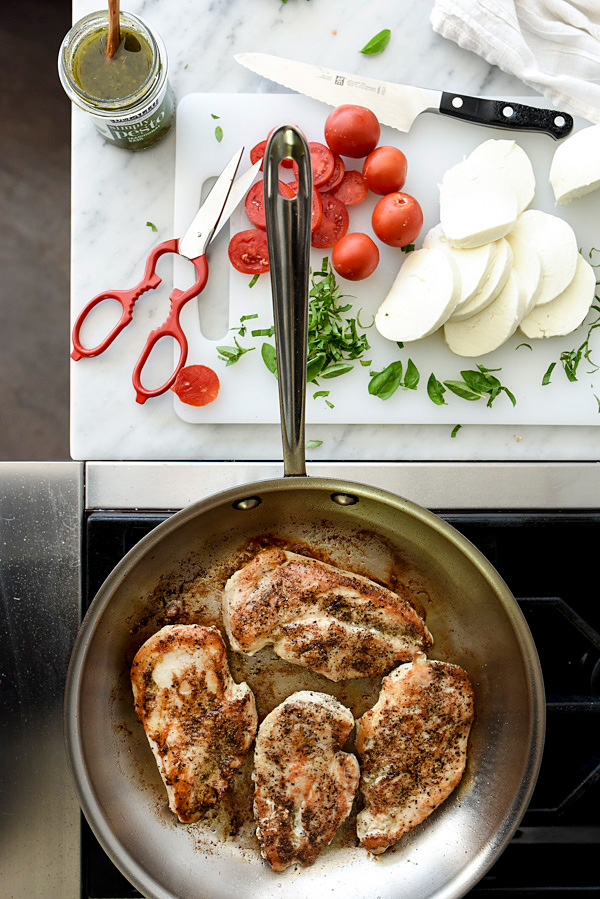 How to Make Chicken Caprese
This easy chicken dinner starts on the stove and finishes in the oven to guarantee moist, juicy chicken cutlets that cook quickly and taste awesome.
Cut boneless chicken breasts in half lengthwise so they're thinner, cook faster, and go further. Or is that farther? Either which way, it makes more chicken for your buck. Thinner chicken breasts are also easier to gauge for doneness, and have more browned and crisped area to enjoy.
Sear the chicken in a combination of extra virgin olive oil and butter. Adding butter to the EVOO raises the smoke point so neither burns, and adds a lovely golden color to the cooked chicken breasts.
Cook the chicken breasts undisturbed until they release easily from the pan.There's no need for flipping back and forth. When the chicken is seared, the developed crust will easily release from the pan. The chicken will continue to cook in the oven.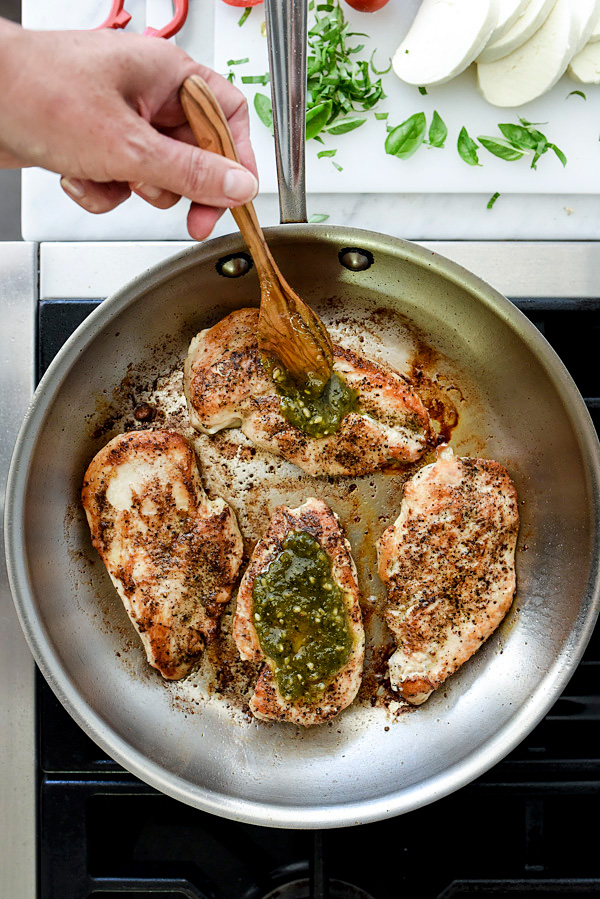 Flavor Shortcut: Jarred Pesto
For one-step flavor, smear the chicken with pesto. The best shortcut for adding flavor is topping the seared chicken breasts with the Italian-inspired basil and garlicky, tangy schmear of pesto. Making my favorite homemade basil pesto is easy, but opening a jar of DeLallo's Traditional Basil Simply Pesto makes this dish even easier. There's no need for any other herbs or spices—besides salt and pepper—because it's all there in the jar. Wha-la!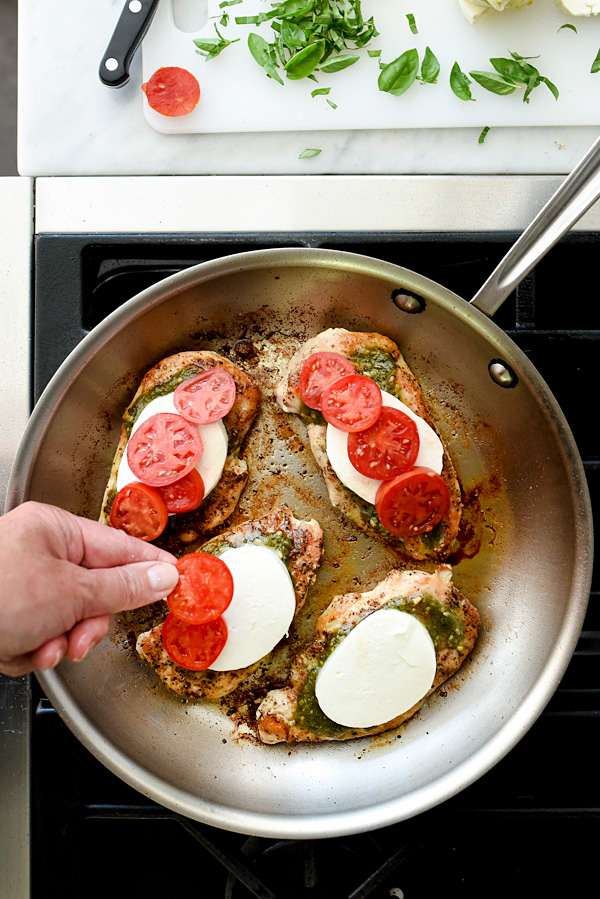 Make It Caprese
Add the caprese components. Thick cuts of fresh mozzarella cheese and sweet tomatoes are classically caprese. Use garden fresh tomatoes, or if out of season, try the smaller and sweeter store-bought campari (or cocktail) tomatoes to make this recipe all winter long.
Transfer the skillet to a 400°F oven for about 10 minutes to finish cooking. Finish cooking the chicken in the hot skillet as the mozzarella melts and the tomatoes warm and lightly roast.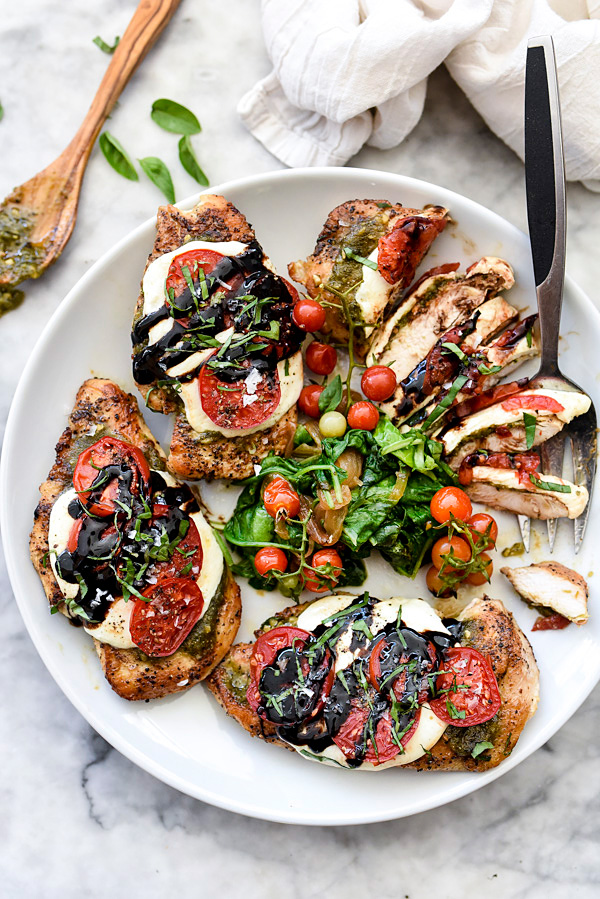 The Chicken Caprese Finalé
Before cutting, allow the chicken to rest for a few minutes. Keep the juices in the chicken meat by giving it a minute to rest before taking a knife to it. Save any of the juices left in the pan for a tasty, savory drizzle.
Finish the dish with balsamic glaze and fresh basil. Before serving, add some sweetness with a drizzle of DeLallo's Modenacrem balsamic glaze. Drizzle a little or a lot, just make sure you drizzle. A sprinkling of fresh basil finishes this dish off with every cheesy, chicken bite.
This recipe is brought to you by DeLallo Foods